Golden Royal™ Roulette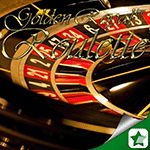 Play the "the king of casino games," Roulette. Gamblers have been enjoying its charms for centuries. The game has its roots in Europe, and for years it was only available in Monte Carlo and Las Vegas. Global gambling saw a major increase in the 1970s, however, and now roulette is a common sight in hundreds of casinos around the world and now your Xbox.

All the betting options available for up to four local players. You may even reuse you last bet.


Supports playing with a single controller or up to four
American and European Wheels

Get Golden Royal™ Roulette for
XBOX Console