Golden Royal™ Bingo!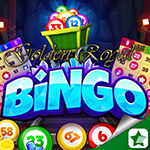 B4 G46 O72, BINGO! The classic number calling, card marking game is here with A Golden Royal twist. Each player receives a card with 24 numbers and a free space in the center. Choose to play with standard Bingos, lines and corners or with a random shape. The first player that calls Bingo wins.

Bingo is great with a group of friends or family. Up to four local players can compete. You must a controller for each player. Also great when alone as you compete against three computer players.


Play single player versus Computer Players

Get Golden Royal™ Bingo! for
XBOX Console